We are very excited to congratulate Dr MacInnis on becoming one of the first optometrists in the country to be certified to fit the MiSight myopia control contact lens! MiSight is a new daily disposable contact lens that has the ability to slow down the progression of near sightedness, reducing the risk of retinal detachment and vision robbing myopic degeneration. Here is the press release from CooperVision:
Groundbreaking Children's Myopia Control Treatment Arrives in Canada; CooperVision MiSight® 1 day Contact Lens Now Available!
January 11, 2018
Eye Care Professionals Can Begin Fitting the World's First One-Day Soft Contact LensShown to Substantially Slow the Progression of Myopia in Children1
Richmond Hill, Canada, January 10, 2018 — Millions of children across Canada are poised to benefit from a breakthrough therapy that addresses the fast-growing issue of myopia (nearsightedness), which is projected to negatively affect more than 50 percent of the world's population by 20502.
Beginning January 10, the CooperVision MiSight® 1 day contact lens will be available for fitting by Eye Care Professionals. It is the world's first one-day soft contact lens clinically proven to substantially slow the progression of myopia in children.
"In the short term, myopia robs children of their ability to fully participate in everyday life," said Alexandra Donkin, Country Manager, CooperVision Canada. "Correcting it is only part of the battle, since the condition can worsen as a child matures. The MiSight® 1 day contact lens has been specifically developed to control that progression, which can significantly reduce the risk of myopia-related complications and vision loss later in life."
Myopia significantly increases the risk of retinal detachment and myopic maculopathy, with even low myopia levels associated with a higher prevalence of glaucoma and cataracts3. MiSight® 1 day has been shown to reduce myopia progression by more than half versus a single-vision one-day lens1,4. Over three years, children wearing MiSight® 1 day had 59 percent less myopia progression and 52 percent less axial elongation on average than those wearing a single-vision one-day lens1.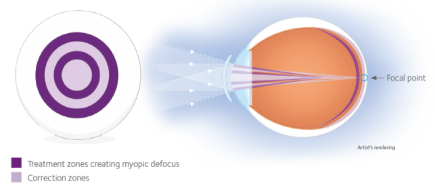 The innovative contact lens is designed for children who have a myopia prescription from -0.25 to -6.00. Its ActivControl®Technology addresses both axial elongation and refractive error4. Two treatment zones create myopic defocus, with image focus in front of the retina rather than behind it to slow axial elongation, while two correction zones fully correct myopia in all gaze positions. These zones ensure consistent myopic defocus across all gaze positions and prescriptions.